The film by Barry Putra touches on lesbian, gay, bisexual, transgender, queer and intersex plus (LGBTQI+) issues, which is a sensitive topic in Indonesia.
  His film was named a winner alongside two others — I Am Not Afraid from France and Cycle from Italy. Each of the three winners was awarded an opportunity to work with a real producer and a budget of 20,000 euros (US,426) for their next production.
  Barry said his win came as a surprise. "The other films are as great, the issues they raised are also interesting, and the other filmmakers have great filmmaking experience. This is the first time I made a short film so I did not expect it at all. I did not even prepare a speech. When it was announced, I was trembling and I was at a loss for words," he told The Jakarta Post.
  With the reward, Barry plans to work on another project that will also focus on LGBTQI+ issues or highlight bissu (gender neutral identity that is part South Sulawesi's Bugis tradition) for his next production.
  "I want to expose women's sexuality, especially Muslim women. Hopefully, people can see that there is another dimension to women. That, I think, will help undo all of the negative perceptions that can harm them. And hopefully, people can see them as humans too."
  He is aware that in certain societies, knowledge about sexuality and the LGBTQI+ community is minimal, resulting in them being discriminated against.
  "I hope with this film, I can talk about sexuality and the LGBTQI+ community differently; through media and film, so that hopefully it can educate people about women, sexuality and the LGBTQI+ community," Barry said.
  The one-minute film tells the story of a gay Muslim girl and her struggle in dealing with the pressure of a society that does not accept her sexuality. With brief yet intense shots, Barry portrays the girl's sad process of hiding her true sexuality to fit in with the demands of society, as well as the punishment she faces after being shunned by friends and family.
  Ever since it was first launch in 2005, the festival has given home filmmakers all over the world an opportunity to shine.
  With the unique concept of 1 mobile, 1 minute, 1 film, the festival has erased the economic barriers for filmmaking — requiring aspiring directors to use only the cameras on their mobile phones or tablets to express their ideas.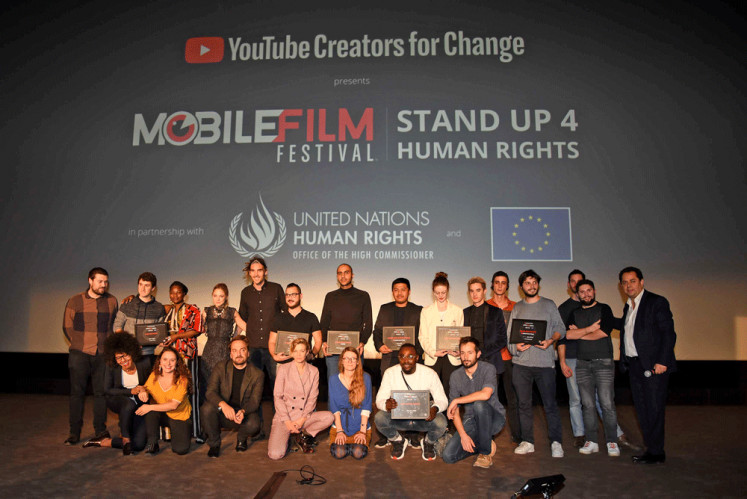 Their creativity is also challenged by time constraints, where filmmakers have to be able to convey their message to the audience in just under a minute.

  This year, for its 14th edition, the festival partnered with YouTube Creators for Change, the Office of the United Nations High Commissioner for Human Rights and the European Union to commemorate the 70th anniversary of the Universal Declaration of Human Rights.

  Under the theme "Stand Up for Human Rights", the submitted films were expected to portray topics dealing with human rights; ranging from violence against women to freedom of the press.

  With this vast array of topics, the films were divided into eight categories, including women and children's rights, LGBTQI+, racism, migrants' rights and humor.

  This year, 51 out of the 715 submitted films from 81 countries were selected and published on the festival's social platforms, particularly YouTube, from Nov. 6 to 27. In the last edition alone, the films tallied a whopping 17 million views cumulatively, making the festival a platform not only for competitions and the showcasing of films, but also to promote human rights issues.

  "I'm sure the fight, the defense for human rights will still have to go on. It's a long battle. And it's a very interesting goal for humanity to have respect for women, respect for kids and all the other subjects," the festival's initiator, Bruno Smadja, told the Post.

  The submitted films were judged by household names such as actress Amber Heard, YouTuber Funforlouis and Ireland's former president Mary Robinson. The award ceremony was held at the MK2 Bibliothèque Theater in Paris.

  The films, which were mostly heart-moving and confrontational, portrayed the huge gap between the world and its humanitarian ideals. They also gave the audience a broad world view as each film raised different issues.

  One of them, The Tenants from Hungary, raises the issue of racism, telling the story of a gypsy couple who uses disguises and makeup to cover up their appearance just so they can rent an apartment in Budapest.

  This film touches on issues of discrimination that still exists in Hungary, forcing the couple to cave into pressure because appearances are used to judge an individual rather than his or her character.

  Smadja said the films were selected because they were creative, impactful and complimentary in terms of their countries, subjects they were approaching and in terms of storytelling.

  "It's a great moment. These small films shot on smartphones were shown on screens that usually show films like Star Wars."

  — The writer is an intern at The Jakarta Post.

,,,,

  "Thistypeoffallhappenssuddenlyandnormallywithoutwarning,andispartoftheprocessofnaturalerosionthatmakesourWorldHeritagecoastlinesobeautifulandimportantforunderstandingthehistoryofourplanet,"astatementsaid.

,

  About1,000tonnesofrockanddebrisfellatEastBeachinWestBay,Dorset,atabout17:30GMTonTuesday,thecoastguardsaid.

,,,,

  Engineersandageologistareinspectingthearea.

  WestBayfeaturedinITVserieswhichstarredOscarwinnerOliviaColmanandDavidTennant.

,

  Followingsearchesbycoastguardteams,firecrewsandrescuedogs,no-oneisbelievedtobetrappedintherubble.

,

  WestBayfeaturedinITVserieswhichstarredOscarwinnerOliviaColmanandDavidTennant.

,

  About1,000tonnesofrockanddebrisfellatEastBeachinWestBay,Dorset,atabout17:30GMTonTuesday,thecoastguardsaid.

网站编辑:韦乐芹59206